A lot of sights and activities are expensive in New York City. Nevertheless, you can entertain yourself well on very little money if you know where to go. Here are some tips for seeing New York City on a budget. (Note: I thoroughly fact-checked and updated this post on January 25, 2018.)
A disclosure: this post contains affiliate links. If you buy through one of the links I will get a small percentage of what you spend. It will not affect your price.
1. Some general tips for seeing New York City on a budget
If you want to see a Broadway or Off-Broadway show, and are willing to be flexible about which one, the best place to go is the TKTS booth in the middle of Times Square to buy half-price or reduced-price theater tickets on the day of the show. Often, more seats are available for matinees, so you're more likely to get one of the newer, more popular shows if you consider attending the matinee. There are also TKTS booths at the South Street Seaport and in Brooklyn, and at those you can buy matinee tickets for the next day as well. TKTS Times Square at Broadway and 47th. No bank cards are accepted: only credit cards, cash or traveler's checks. Get there when they open or even earlier for the best selection. (TKTS website)
The Staten Island Ferry is a must-do! And it's free! You'll have to get off and re-board at each terminal, but the views of the city, the harbor, and the Statue of Liberty are amazing! East end of Battery Park, Lower Manhattan. Daily, with departures every 15-30 minutes. (Staten Island Ferry website)
Cheap food: Street food is cheap (hot dogs, pretzels, etc.), and the more "hole-in-the-wall" a place is, the cheaper it's likely to be, especially in the less-touristy neighborhoods. Take-out food like burgers, burritos, deli sandwiches or bagels will be cheaper than food that is served to you at a table—and you don't have to leave a tip if you're not served at a table. The bagels you find in New York, by the way, are the best in the US—it has something to do with the water they're boiled in. If you want Chinese food, try Chinatown, but stick to the little places on the side streets: the more hole-in-the-wall, the more authentic the food is likely to be. If you are served at a table, you are expected to leave a tip, usually about 15% of the bill. Don't skimp if the service is good; waiters are paid very poorly in general.
Turn off data roaming on your phone, or you'll be in for a nasty surprise when you get home. Starbucks is everywhere, and they have free Wi-Fi. So do lots of other places—it's more common in the US than in Europe. In most of them you can just step in the door, stand along the wall away from the counter, download your messages and get out again without spending anything!
Shopping: If you're not from the US, you might expect the price marked on an item to be the actual price. It's not! Sales taxes of 8.875% (as of this writing) are added at the register, so don't take the marked price as the final price!
The subway is the fastest and easiest way to get around the city. When you travel on the subway, make sure of which train you're getting onto. Some are locals, which stop at every station, and some are express trains, which only stop at major stations. They're usually on the same track so check before you board. A single ride costs $2.75, but you're better off, if you're going to be using it a lot, to buy an unlimited pass MetroCard, which costs $32 for 7 days or $121 for 30 days. If you're going to be out late clubbing, though, you'll have to add some cash to the card as well, because the "unlimited" part doesn't cover travel after midnight.
2. Walking is free in New York City
Places to stroll: Central Park, of course! Walk around the Battery in Lower Manhattan, or South Street Seaport or the Hudson River Greenway (a strip of park along the river) or across the Brooklyn Bridge or the Manhattan Bridge (great views of the city!).
Rockefeller Center: Rockefeller Center was built in the 1930s and is certainly worth a look, especially if you're interested in the art (sculptures and murals) and buildings of that period. Great people-watching too. Between Fifth and Sixth Avenue, around 49th and 50th St, Midtown. (Rockefeller Center's website)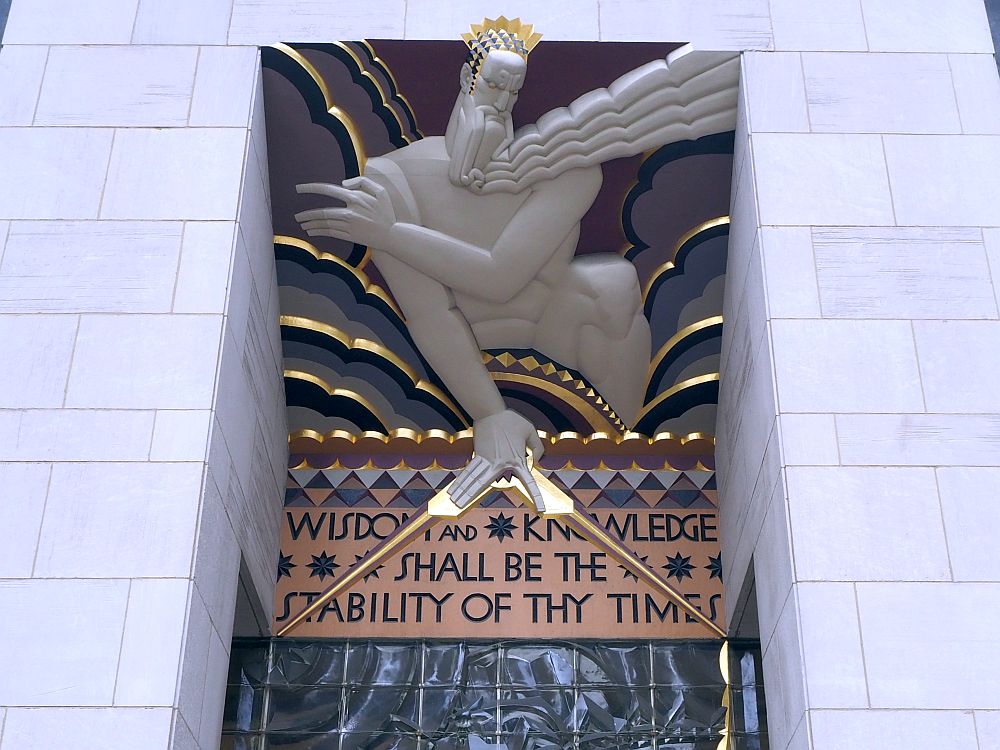 Art Deco: And speaking of Art Deco, even if you can't afford to take the elevator to the top of the Empire State Building (350 Fifth Avenue), the art deco style of the lobby is definitely worth seeing. (If you decide you do want to go up, click here for fast-track access tickets.) The same goes for the Chrysler Building (405 Lexington Avenue) and Grand Central Station (which was built earlier in Beaux Arts style, but is worth seeing inside: make sure to look up! And if you want to learn more about it, take the audio tour).
High Line: This part of the elevated railway network was abandoned years ago and stood derelict until it was recently reshaped into an elevated park. Some spots have great views of this gritty part of the city (though that's changing with the creation of this park), and the Hudson River as well. Outdoor art exhibits and other events are on offer all year. Great people-watching here too! Gansevoort Street to West 34th between 10th and 12th Avenues, Chelsea. (Read my post about the High Line and/or visit The High Line's website)
Governors Island: This former military base in New York Harbor is now a National Monument converted into public space. Only open in season, it is easy and free to get there by ferry. Open May 1 – October 31, Monday-Friday 10-18:00, Saturday-Sunday 10-19:00. Leave from the Battery Maritime Building (very near the Staten Island Ferry), 10 South Street, Lower Manhattan. (Governors Island website)
Walking Tours: Various groups offer "free" walking tours in various parts of the city. I put "free" in quotation marks because the expectation is that you will tip the tour guide based on how good you think the tour was. Rather than trying to write a comprehensive list, I'll just refer you to tripsavvy's list.
You might also like my post New York City: A photo essay or Trip of a Lifetime: Bloggers pick their must-see destinations.
3. Free museums in New York City
While you're in Lower Manhattan to take the Staten Island Ferry and stroll around the Battery, check out the National Museum of the American Indian, very nearby the Staten Island Ferry terminal. It displays artifacts from its permanent collection but also rotates some fascinating temporary exhibitions about Native American culture. Open 10-17:00 daily, Thursdays until 20:00. Admission: free. One Bowling Green, on the NE corner of Battery Park. (NMAI's website)
African Burial Ground: This burial ground was the final resting place for thousands of free blacks as well as slaves. It was discovered in the 1990s during construction of the Federal Building, and this small national monument was incorporated into the building. A visitor's center teaches about Africans in 17th and 18th century New York, and a memorial stands outdoors. Open Tuesday-Saturday 10-16:00, outdoor memorial open until 17:00. Admission: free. Ted Weiss Federal Building, 290 Broadway between Duane and Reade Streets, Lower Manhattan. (Read my post about this museum and/or visit the AFB's website)
Theodore Roosevelt Birthplace: As the name suggests, this 1848 brownstone is where Teddy Roosevelt was born and he lived here until he was 14. Five of the rooms have been restored to what they looked like when the Roosevelts lived here in 1865. Open Wednesday-Sunday 9-17:00. Admission: free. 28 East 20th Street between Park Avenue South and Broadway. (Read my post on this museum and/or the museum's website)
Hamilton Grange was the home of Alexander Hamilton, one of America's Founding Fathers and a signer of the Constitution. There are exhibits about Hamilton's life, as well as period rooms. Open Wednesday-Sunday 9-17:00. Admission: free. 414 West 141st Street, between Convent Avenue and St. Nicholas Avenue (Hamilton Grange website).
If money interests you, visit the Federal Reserve Bank of New York. You need to reserve ahead to visit here and see the high-security vault, safeguarding the gold well below street level, as well as exhibits about money. Taking the tour is required. Tours offered Monday-Friday at 13:00 and 14:00. Admission: free. 33 Liberty St, Lower Manhattan. Enter at 44 Maiden Lane (FRB website).
Chelsea galleries: The galleries in the Chelsea neighborhood are the place to see all of the up-and coming-artists, and it's perfectly acceptable to visit without intending to buy. On Thursday evenings some will be holding openings, which means free wine and cheese. Most are in the 20s between 10th and 11th Avenues. (Listing)
If you're an artsy person, it's worth venturing out of Manhattan to visit the Bronx Museum of the Arts. Its specialty is contemporary and multi-ethnic art. Open Wednesday-Sunday 11-18:00; until 20:00 on Friday. Admission: free. 1040 Grand Concourse at 165th Street, The Bronx. D or B subway to 167 Street Station. (museum's website)
Fashionistas should certainly visit the Museum at FIT (Fashion Institute of Technology). They have lots of special exhibitions on various aspects of fashion and couture, as well as a large permanent collection. They also have a gallery of current students' and faculty's creations. Open Tuesday-Friday 12-20:00; Saturday 10-17:00. Admission: free. Seventh Avenue at 27th Street. (their website)
4. Sometimes free (or cheap) museums in New York City
Museum of Modern Art: This is my absolute favorite modern art museum, with art from the post-war period until today. It owns the true icons of each movement. Open daily 10:30-17:30, until 20:00 on Fridays. Normally, admission is $25, but every Friday night, admission is free from 16:00 to 20:00. 11 West 53rd Street between Fifth and Sixth Avenues. (MOMA) If you decide to go when it's not free, get this skip-the-line ticket.)
Museum of Chinese in America: If you're curious about immigrant history, this museum in Chinatown is a good place to visit, along with the Tenement Museum. It's in an impressive building as well, designed by Maya Lin. Open Tuesday-Sunday 11-18:00 and until 21:00 on Thursdays. Admission normally $10, but admission is free on the first Thursday of the month. 215 Center Street, between Howard and Grand and one block north of Canal Street. (MOCANYC)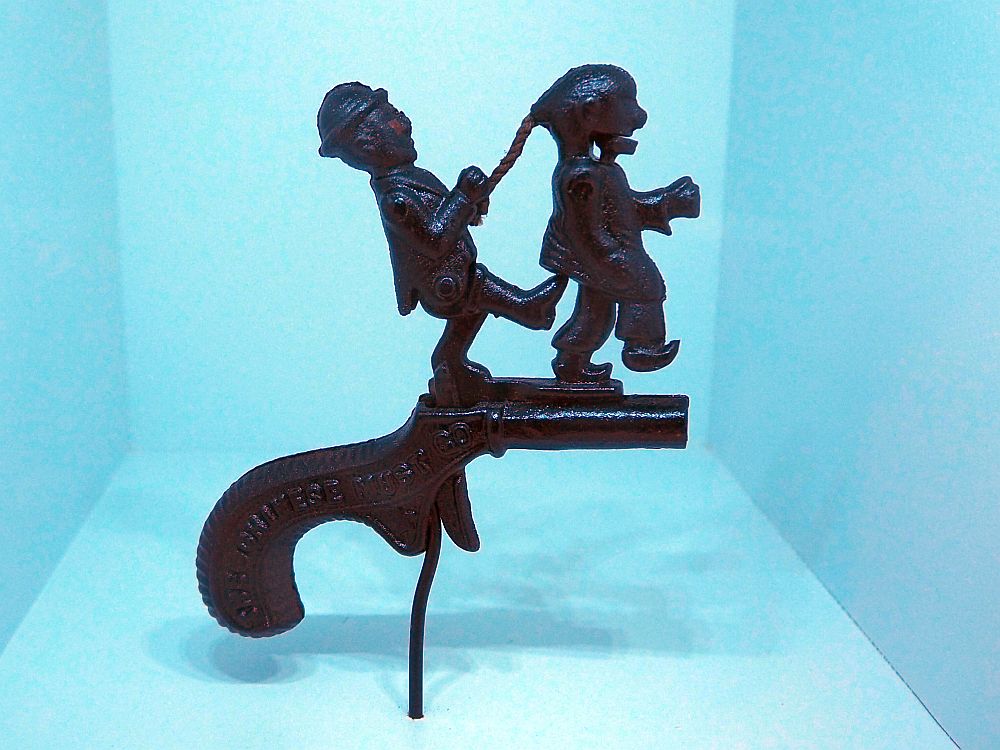 Museum of Arts and Design: This used to be a crafts museum, but it now covers all sorts of design objects, such as architecture and textiles. Open Tuesday-Sunday 10-18:00 and on Thursdays until 21:00. On Thursdays from 18:00 to 21:00, you can pay what you want, so it's not really free, but you can be cheap and just give a few dollars. 2 Columbus Circle. (MAD)
The Museum of Jewish Heritage: Permanent as well as temporary exhibitions are designed to honor Jews who died in the Holocaust by presenting and celebrating modern Jewish culture, history and traditions. Open Sunday-Tuesday 10-18:00, Wednesday-Thursday 10-20:00 and Friday 10-15:00 (until 17:00 from March 10-November 10). Admission normally $12, but free on Wednesdays and Thursdays from 16-20:00. Edmond J. Safra Plaza, 36 Battery Place, Lower Manhattan. (MJHNYC)
The New Museum is all cutting-edge contemporary art, even the building itself. Open Tuesday-Sunday 11-18:00 and until 21:00 on Thursdays. Admission normally $18, but on Thursdays from 19:00 to 21:00, pay what you want, with a suggested minimum of $2. 235 Bowery near Prince Street. (New Museum's website)
The 9/11 Memorial and Museum: It may seem morbid, but this museum and the memorial are impressive and moving. The memorial is open daily 7:30-21:00. The Memorial museum is open daily 9-20:00 and until 21:00 on Friday and Saturday (last entry two hours earlier). Admission normally $24 (Skip-the-line admission here), but on Tuesday evenings tickets are given out free – first come, first served – starting at 16:00. Entrances at Liberty Street and Greenwich Street, Liberty Street and West Street, or West Street and Fulton Street. (9/11 Memorial and Museum) (Here's my post about the memorial from a visit a couple of years ago, before the Freedom Tower was completed.)
5. Sleeping in New York City
I'll be honest here. Accommodations are expensive in New York! I'd suggest spending some time on both booking.com and Airbnb (This Airbnb link will get you a discount if you haven't used Airbnb before.). Make sure to use map view to make your choice, so you can be sure that wherever you stay is near to a subway station.
Don't assume you have to stay in Manhattan; it's the most expensive part of the city to stay in. If you are determined to stay in Manhattan, don't assume Harlem is unsafe. It isn't any less safe than the rest of the city, and accommodations there are often cheaper than other parts of Manhattan. Consider Brooklyn as well, or across the river in New Jersey. They're cheaper, and as long as a subway or train station is nearby, you can make it work.
The only two hotels I've stayed in at all recently were both pricey: Jane Hotel cost less than the TWA Hotel. If you can afford them, I recommend them both!
I'm sure I've missed some key points here, so please feel free to add any further suggestions below! What would you recommend that's free or cheap to do in New York City on a budget?
What would you recommend that's free or cheap to do in New York City on a budget?
Click To Tweet
And please share this post plentifully! The images below are formatted for Pinterest.