In my post about Arolithos "Traditional Cretan Village" early this summer, I described how I reserved my hotel room through Hotwire, and how Hotwire is a bit of a gamble.
(Disclosure: This post contains affiliate links. If you make a purchase through one of these links, I will receive a small commission. This will not affect your price.)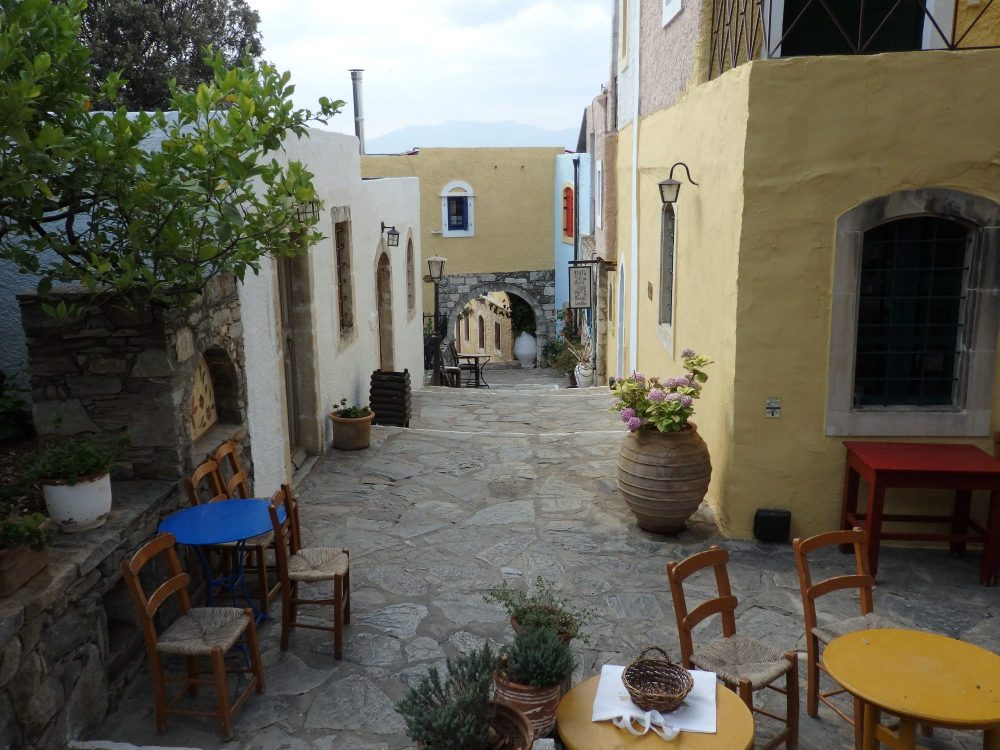 Hotels don't want too many empty rooms. They're willing to book rooms at cheaper than their standard rates in order to fill them and at least make something on them.
So how does Hotwire work? Their gimmick is that you can book a room at a deeply discounted rate, but you don't find out which one you've booked until after you pay – and the payment is non-refundable and can only be altered in very limited ways. The reasoning is that hotels don't want people to know that their rooms are available on Hotwire; if they did, no one would ever pay full price.
Why would you book a room in a hotel, when you don't even know which hotel it is or where it is?
How Hotwire works
To get a Hotwire room, you enter the city you want to visit and the dates. Let's say I plan to visit New York City a month from now for a week (Oh, I wish!). I enter September 15th to September 22nd as the dates I want. For the purpose of this example, let's assume my husband is going too, and that we're leaving the kids at home.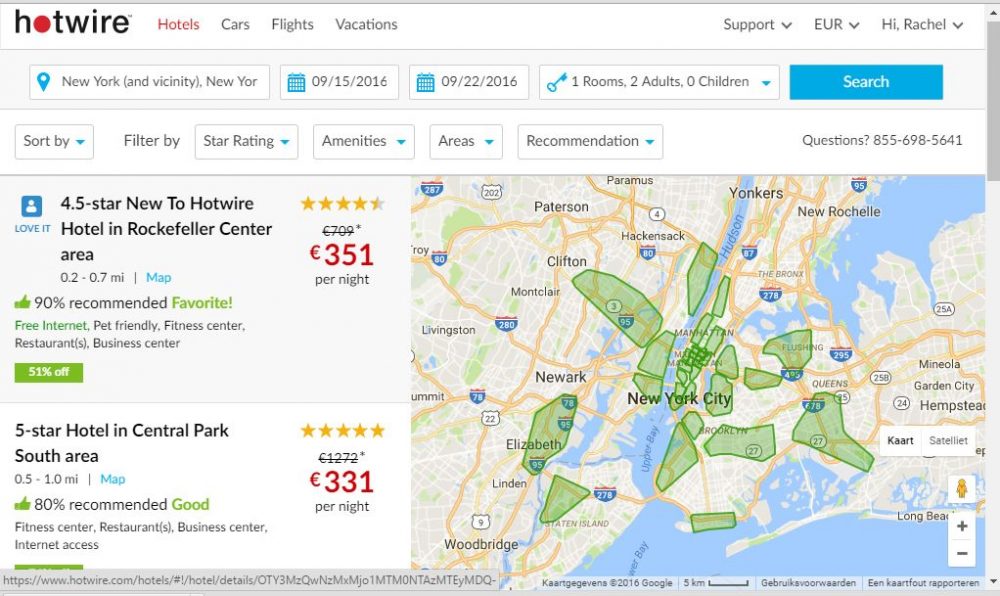 On the screenshot above, you can see that New York City is divided into green areas. I can choose which one or more I want to consider staying in just by clicking on the map. When I do, the chosen area turns red. In this case, I'll click on all the midtown areas to see what I get.
I can also add a star filter (I'll try three and four stars.) and "sort by" will allow me to order the results by price from low to high.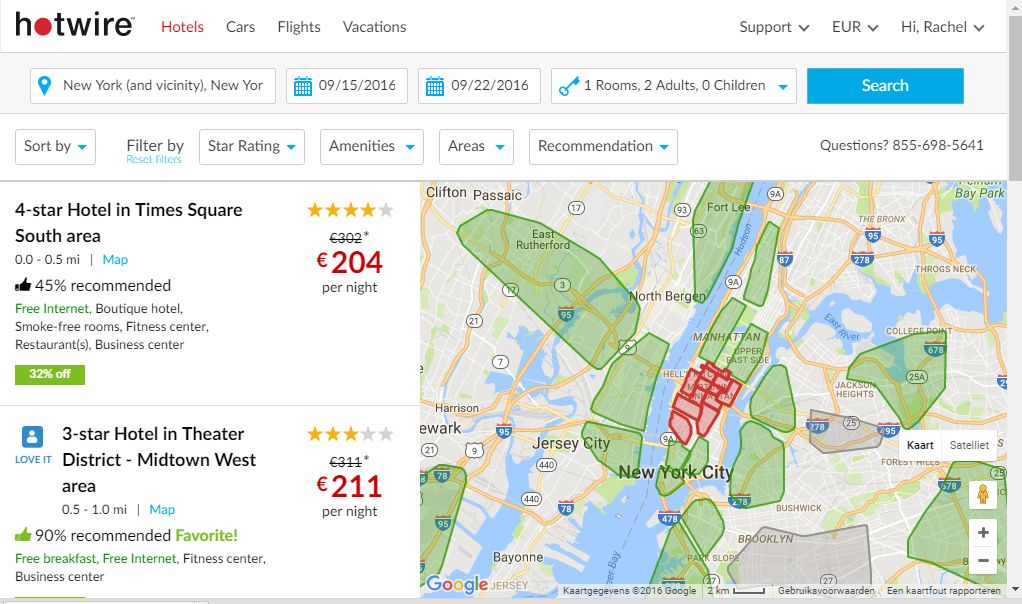 The screenshot above shows my result. The cheapest is €204 a night, which seems a lot to me, but is a good price for midtown. If I widen my search to include downtown, then the cheapest is a €189 room in a 4-star boutique hotel in SoHo-Tribeca. If I include other boroughs and New Jersey, I can find even cheaper places.
So let's say I choose the mid-town hotel for €204. It's a 4-star in Times Square South and has free internet, a fitness center, and restaurant(s), but that's about all I know. Hotwire does give me a hint, though: it lists hotels that are in its "secret 4-star collection," as you can see on the screenshot below.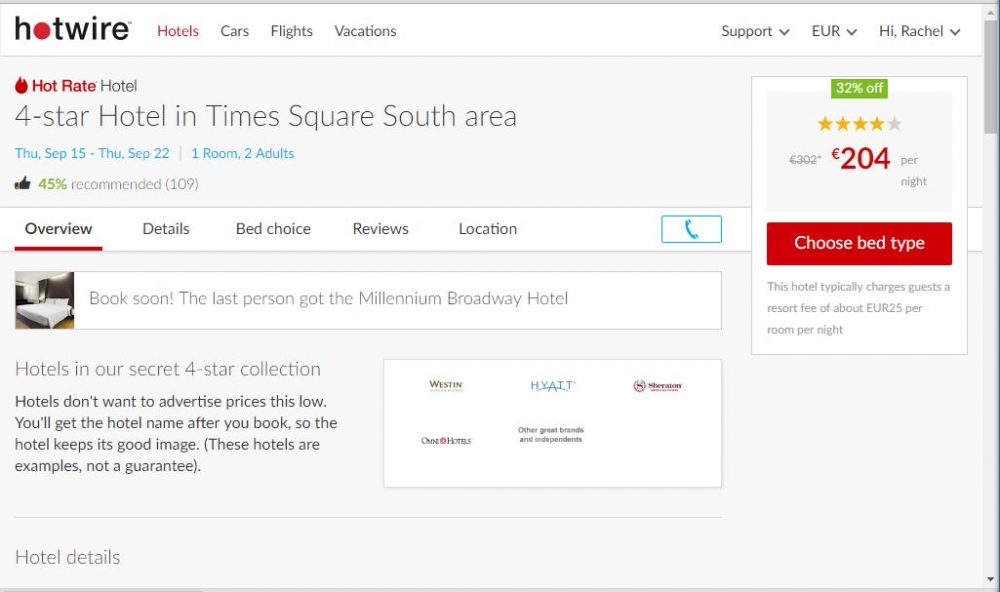 Note: Since I wrote this article, Hotwire has added an even bigger hint. It will tell you the names of three hotels, and guarantee that your pick is one of the three. This makes it far less of a gamble that it used to be. You can even go look up their exact locations and reviews, if it makes you feel more secure about getting one of them.
I probably wouldn't book this hotel, though, because it only lists 45% recommended, based on 109 reviews. There's something wrong here.
Instead, the next hotel in the list, a three-star at €211, is in the Theater District and has a 90% recommendation based on 356 reviews. That's much more reliably a good hotel. It also includes free internet and the free breakfast will save me a bit of money.
---
For more travel tips, try one of these articles:
---
My experiences
I would have to go ahead and book the room to find out what hotel it is, so I won't take you further with this example. I can, however, give you a review of Hotwire, based on my past experiences.
Seoul, South Korea
I was using Airbnb (This is an affiliate link that, if you use it, will give you a discount and me a small payment as well.) for the most part on my solo travels last year, but started having physical symptoms that brought me back to Seoul to see doctors. I'm normally a big fan of Airbnb, but I didn't want to make small talk with Airbnb hosts when I didn't feel healthy. I decided to book a room via Hotwire.
I ended up staying at three different 4-star hotels over about two weeks in Seoul because I kept getting new doctor's appointments I had to wait for. Since Hotwire reservations are non-refundable and non-changeable, each time I learned I had to stay longer, I went back to Hotwire to book a new room.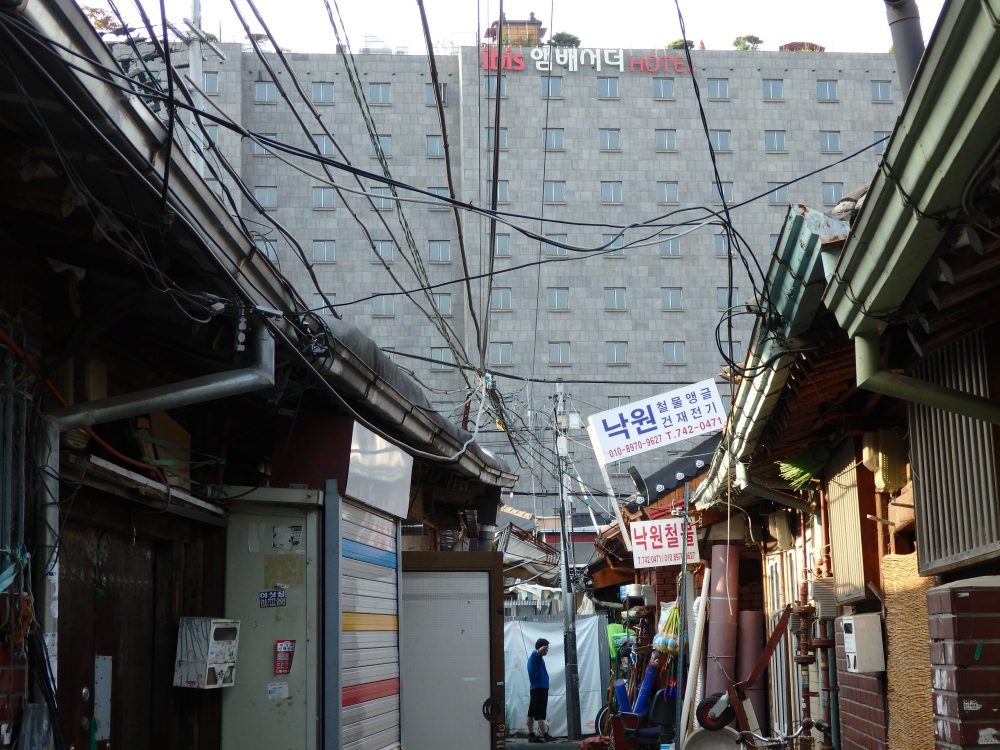 I chose the section of Seoul that was closest to the hospital I had to visit. I could still end up far from the hospital, but Seoul has an excellent metro system, so it didn't really matter where I stayed. Each hotel cost me about €40 a night, an excellent price for a four-star hotel.
I also got a glimpse of some areas that tourists would normally not see. For example, one of the hotels was in a neighborhood filled with lighting and hardware stores. That also meant, though, that the local restaurants were more authentic because they catered to Korean businessmen rather than tourists. And the hotel pictured above loomed over a fascinating traditional hanok neighborhood.
Heraklion, Crete
I led a workshop on Crete in June, and my flight home was the day after the conference ended. Since the conference venue was quite a distance from the airport in Heraklion, I decided to book a night's stay in Heraklion to be closer to the airport. Again, I chose a four-star.
The problem in this case was that Heraklion isn't a very big place. The airport is on the east side of the city, but on Hotwire the whole city is just one box; I couldn't choose a part of the city as I could in Seoul. This made it more of a gamble, and in this case, I lost. The hotel (pictured at the top of this post) was far out on the west side of the city. The hotel was four-star and only cost me €25 for the night, but the taxi to the airport the next day (no metro in Heraklion) cost me €30.
Stockholm, Sweden
In July I attended a TBEX conference in Stockholm, a city that is notorious for its high-cost hotels. On Hotwire, I chose the area of the city that contained the conference venue, hoping I'd be walking distance from it. I knew, though, that Stockholm also has a comprehensive and efficient metro system, so it was okay if the hotel was further away.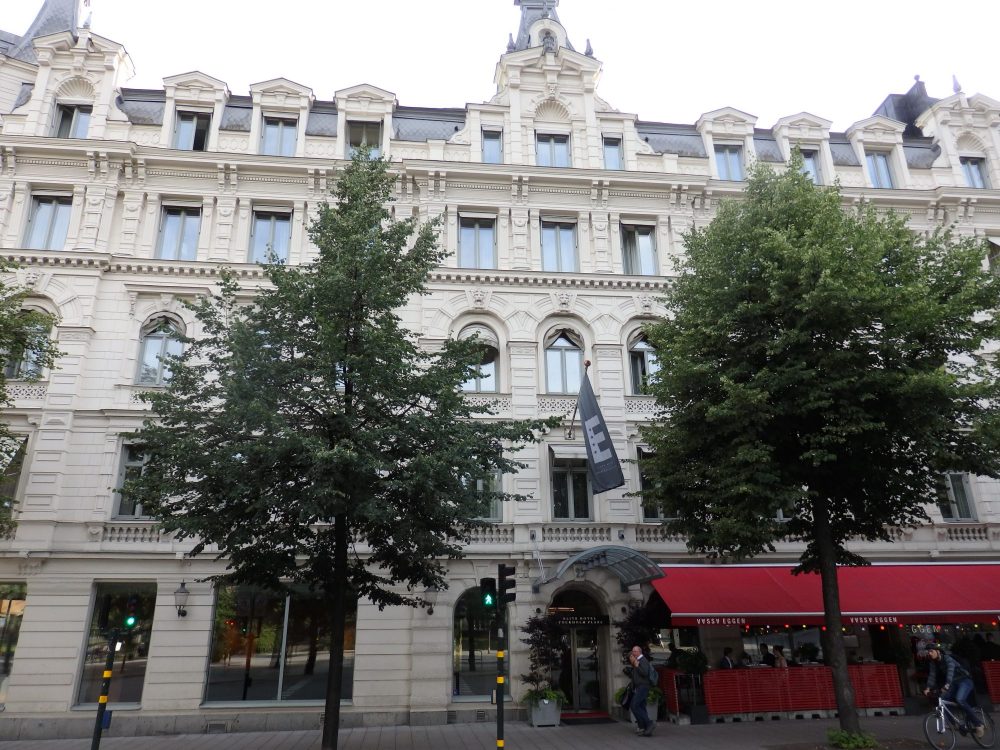 I was very pleased to find a four-star single room for €55 a night, including an excellent breakfast. Every other site showed prices well above €100 a night, unless I booked a hostel. I don't do hostels anymore! And this hotel, the Elite Hotel Stockholm Plaza, was particularly impressive. Except that the room was quite small, I would have rated it as a five-star: it was clean and quiet and thoughtfully appointed. The materials and decor in the room and public spaces were top quality. At about a kilometer from the venue, I only needed to take the metro when I had my luggage with me.
Luxembourg
Just the other night, on the way home from our family trip to Spain, we decided we would stop for a night in Luxembourg City. Looking on Hotwire just the day before meant that we had few choices. My search only listed three hotels: a three-star, a four-star and a five-star. Surprisingly, the five-star, at €76 a night per room, was cheaper than the other two, so that's where we stayed. It was a Sofitel, and the rooms were very comfortable and spacious.
Tips for using Hotwire
Use Hotwire if the exact hotel or location isn't that important to you.
Only use Hotwire if you're not gambling-averse.
If the city is divided in areas on Hotwire, do some research to figure out where you want to be. Is the local transportation good? Is it considered a safe area? If you know someone in the city you're planning to visit, ask them.
Double check that you've entered your information correctly: the dates you want to stay, the number of rooms and the number of people. Remember that Hotwire bookings are non-refundable!
Generally more stars means higher prices, but not always. Check a level higher than you would usually book. I only just learned from this recent experience in Luxembourg that I should check five-star places as well.
When you use Hotwire, you'll get an e-mail after your trip asking you to review the hotel. These reviews give a percentage recommended which is listed for each hotel. Be wary of a hotel that has a low recommendation rating. In parentheses after the percentage is a number, which is the number of reviews the percentage is based on.
Factor in transportation costs. If you would have to take a taxi every day from a hotel that's too far away, you'd be better off booking a nearer hotel on another website like booking.com, or through the hotel itself. If there's a fast and relatively cost-efficient public transportation system, then the area doesn't matter as much.
You can book quite far in advance on Hotwire. I just experimented with booking a hotel in Berlin: comparing a Thursday night stay in August, September and October. The best deal with my search criteria was €55 a room in a four-star hotel, and that price was the same each month. However, the more last-minute you book, the fewer choices you'll have, if any.
Have you ever used Hotwire to book a hotel? If you haven't, but you decide to try it, you can use this link. And please let me know how it works out for you!
Pin one of the following images to share!
---
I am a co-host of Travel Photo Thursday, along with Jan from Budget Travel Talk, Ruth fromTanama Tales and Nancie from Budget Travelers Sandbox. If you have a travel blog and want to join in, do the following:
Add your blog to the linkup, using the link below.
Put a link back to this page onto your blog post.
Visit at least a few of the other blogs in the linkup, comment on them, share them and enjoy them!
If you don't have a travel blog yourself, you can still click on any of the blogs below and visit them!