The very impressive Nynäs manor house (pronounced new-nahs) is about a 30 minute drive from Nyköping. What makes this manor house special is that it was occupied continuously from when it was completed in the 1680s until 1984. In that year, the Gripenstedt family, who had owned it since the 1850s, sold it and all its contents to Sörmland and the National Museum. That means that the furnishings are original and intact, not just re-imagined.
Disclosure: I visited Nynäs as part of a fam tour sponsored by Visit Sörmland and Visit Sweden. All opinions are my own.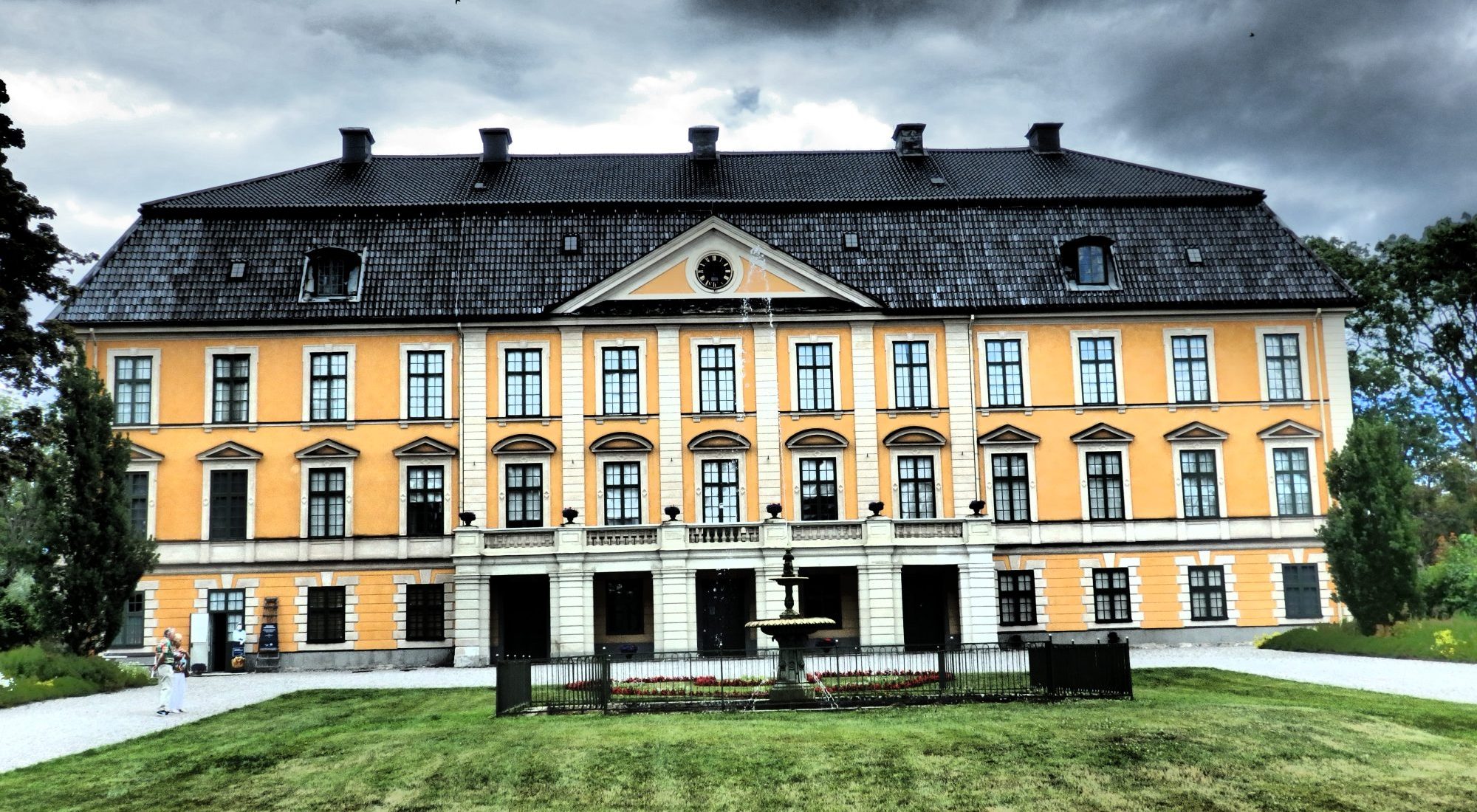 Of course, the manor has been modernized and redecorated over the years. The "hunting parlor," for example, is furnished to mid-19th century tastes, cluttered with furniture and decorative objects. In the 20th century, a portion of the manor was closed and the family lived in less space with fewer servants. Nevertheless, the furnishings—both in the "upstairs" and the "downstairs" parts of the building—are original.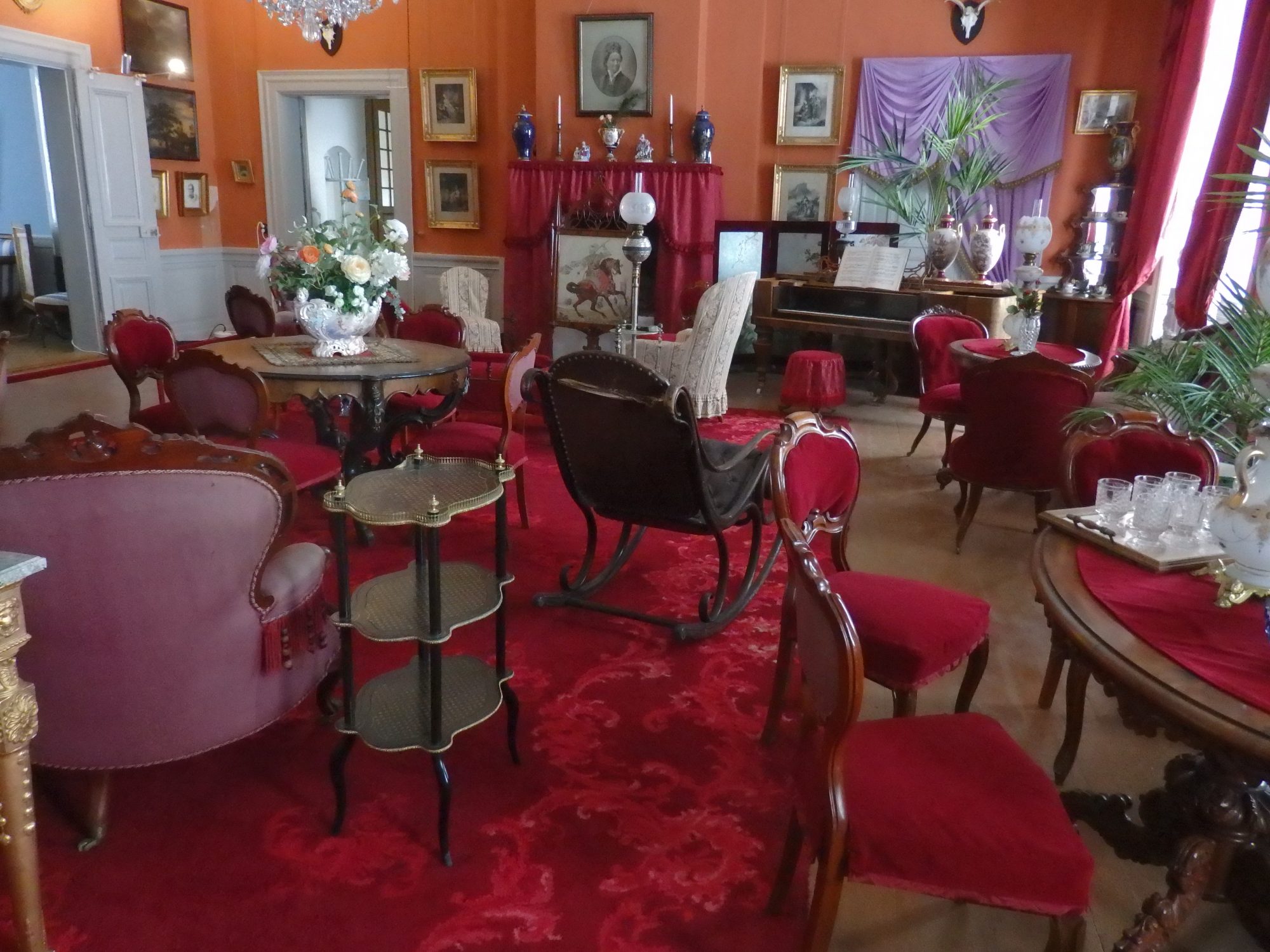 And speaking of original, some of the rooms still boast ceilings from the 1680s. These involve incredibly detailed stuccowork glorifying the Gyllenstierna family, who built the present house. For me, it was astonishing to walk into the first of these rooms. I barely saw the furnishings; I was too distracted by the stucco work.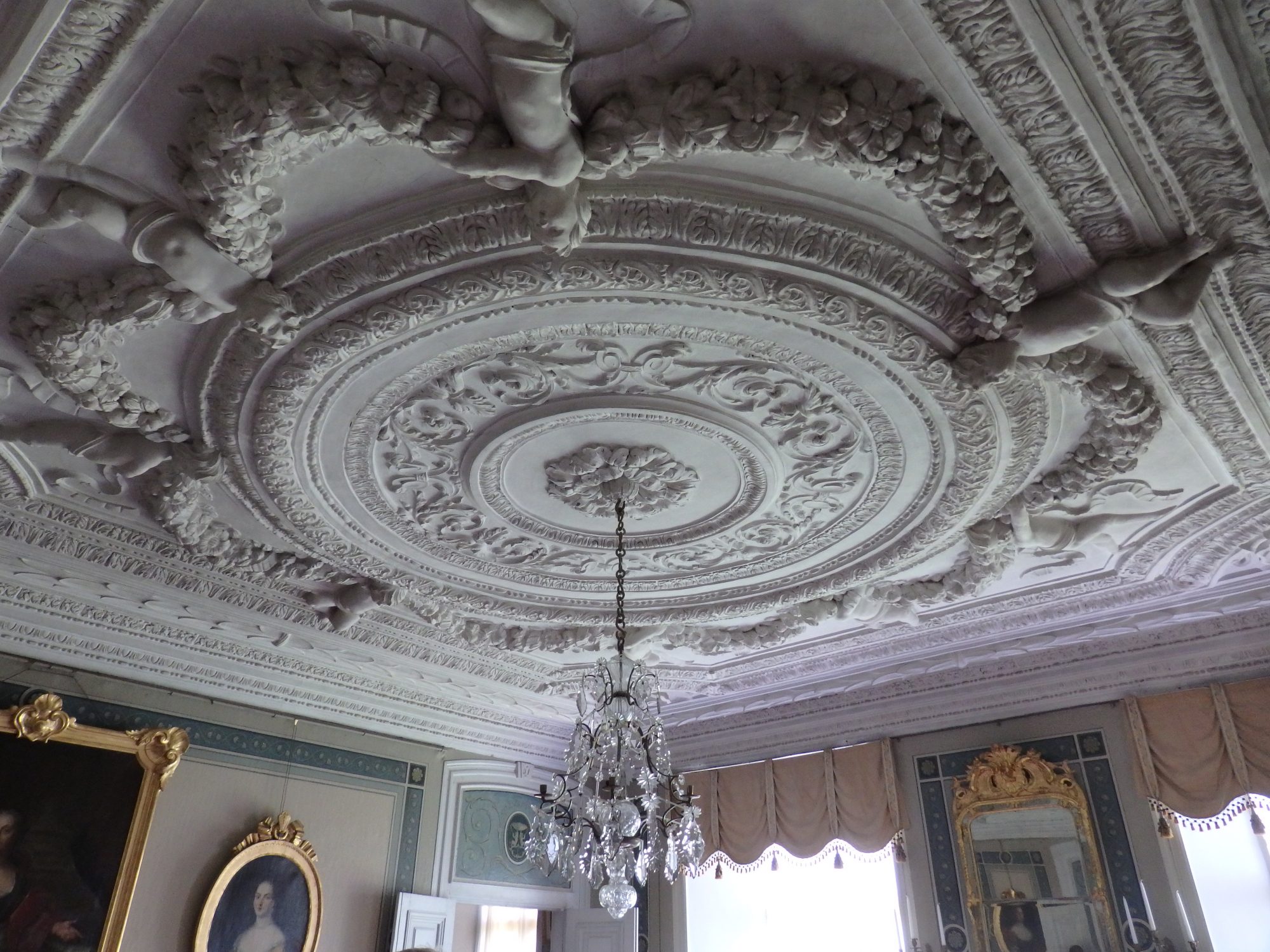 Nynäs estate
Like Julita manor, Nynäs is not just the one manor building. Manor life from the 17th century right up to the 20th century involved a network of industry and agriculture, not just the "Upstairs Downstairs" workers of TV fame.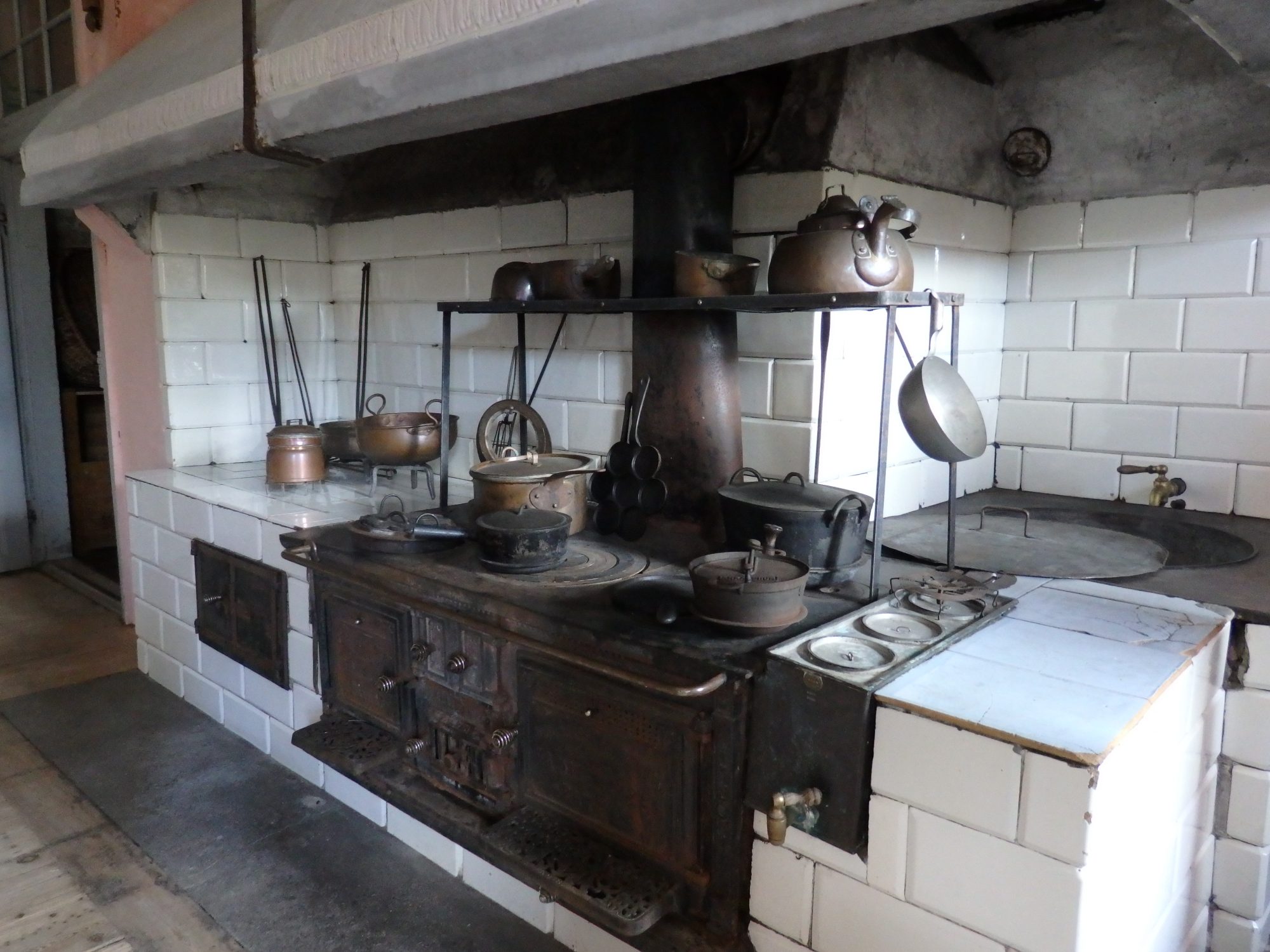 The owners of Nynäs controlled land that was worked by farm laborers: up until the 19th century they resembled the crofters of Scotland, while later they were sharecroppers. The later farm laborers lived in "the town," a cluster of little red houses. Their work necessitated a cowshed, a hay barn, stables, a dairy, a piggery, a smokehouse, and an ox pen.
You might also enjoy these other articles about estates I visited on the same trip:
Craftsmen lived on the estate as well to make the various items needed for such a large estate. A forge, a sawmill (now gone), a distillery, and a carpenter's workshop were among the outbuildings a manor like this needed.
Many of these buildings still stand and you can visit them. The old distillery building is now a hostel, so you can even stay on the grounds to enjoy the estate after hours. The estate also includes a nature reserve of about 3000 hectares (7400 acres).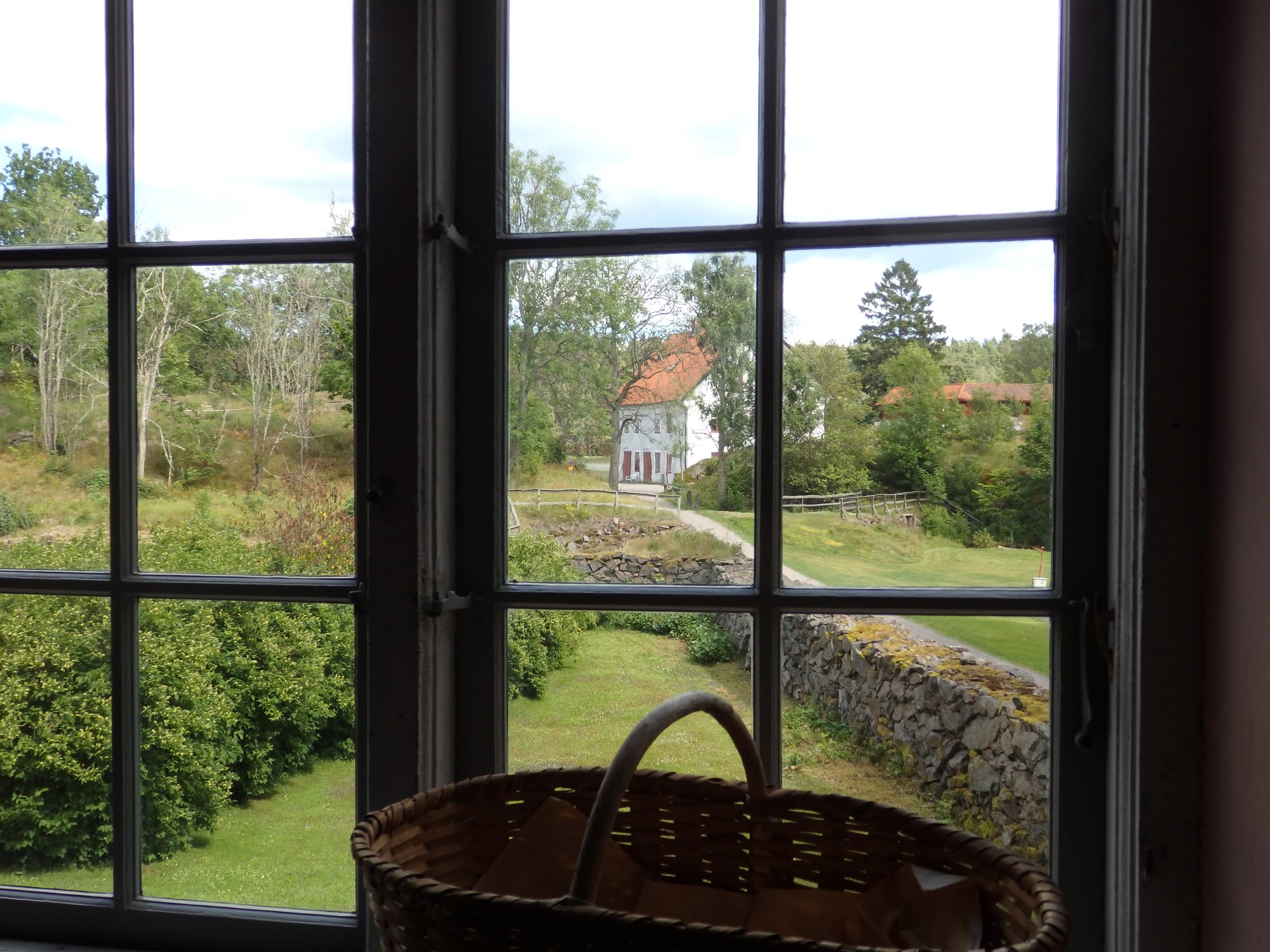 On a blogger familiarization tour that included many different manor houses, Nynäs estate stood out for me because of its authenticity. Nothing, other than basic modernization like electricity and plumbing, has been added either to the manor house or the estate around it. Nothing has been taken away either. It gives a realistic understanding of country manor life in Sweden—both for the wealthy owners and the employees.