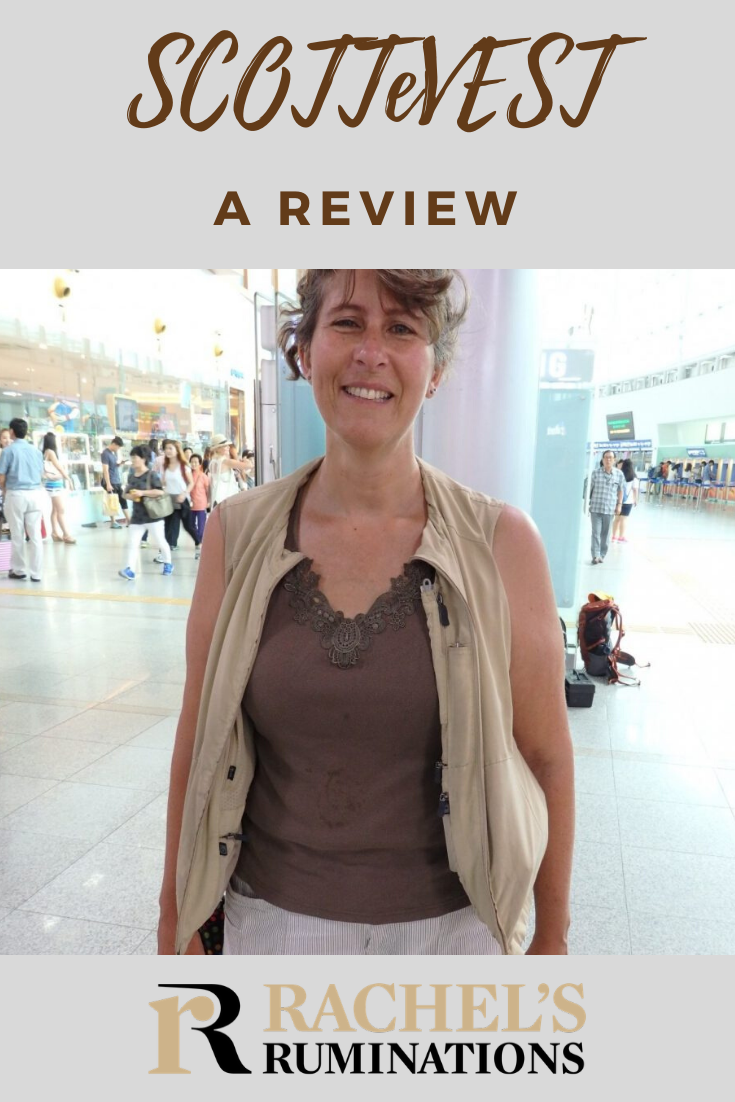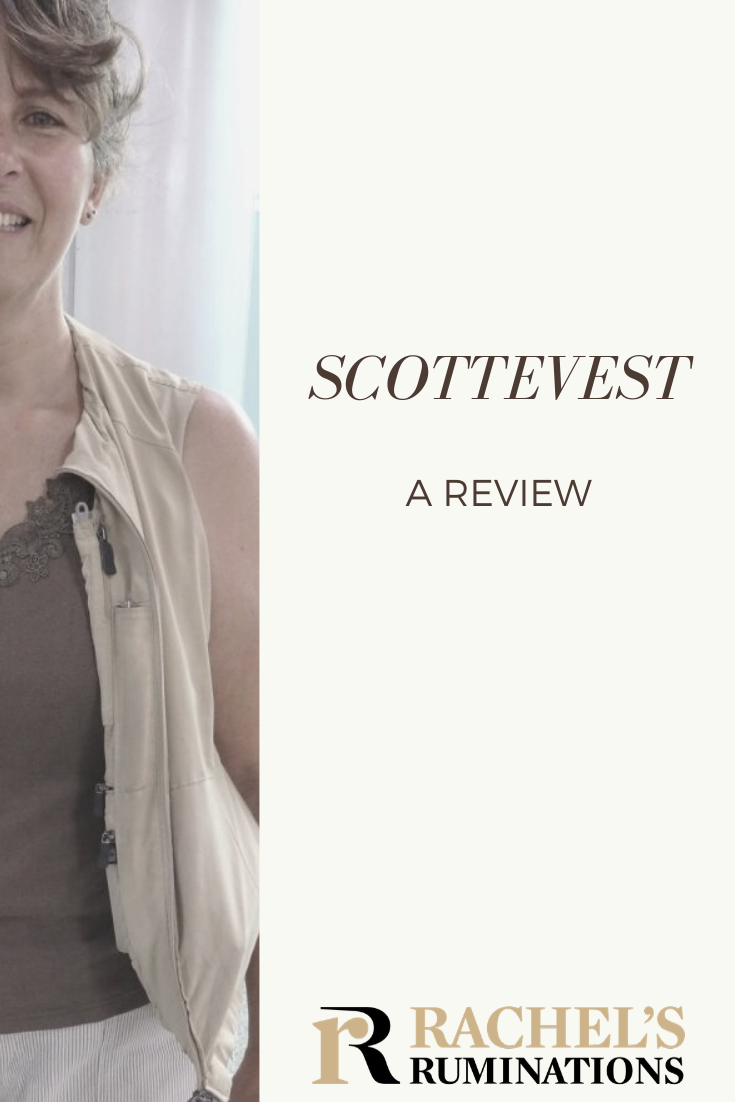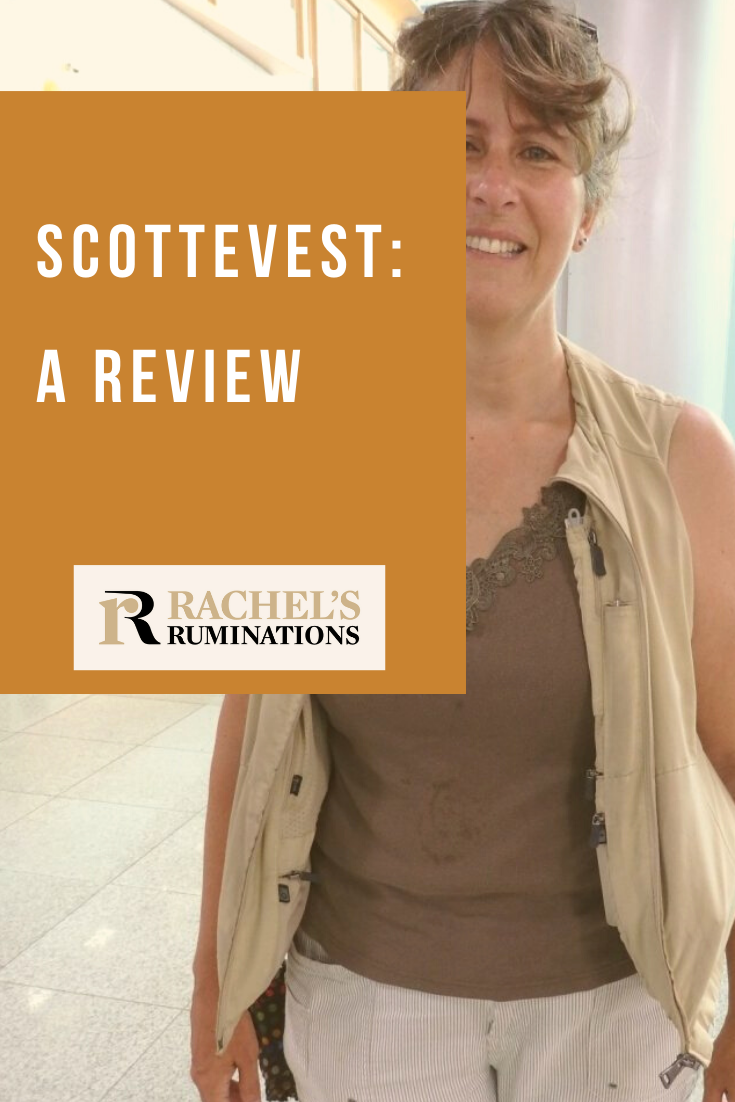 SCOTTeVEST's unique selling point is pockets. They produce jackets, vests, trousers and shirts with lots and lots of pockets.
I love this idea. Most days I carry a handbag, but don't usually have to carry it all day. I go to work, where I put it down. I carry it to do grocery shopping, but then put it down when I get home.
Disclosure: This article contains an affiliate link. If you click on it and make a purchase, I will receive a small commission. This will not affect your price.
The problem, when I travel, is that I'm out and on my feet all day, and carrying a handbag isn't pleasant for that long. Carrying it on my shoulder, I end up with shoulder and/or neck pain; on my back, back pain. In foreign, unfamiliar cities, I also get a bit paranoid about pickpockets so I end up clutching my bag all the time.
That's why, in order to be able to carry all those necessities that I normally schlep around in my handbag, but without carrying a handbag, I bought a travel vest by SCOTTeVEST (Yes, that's how it's written, as if someone is shouting.).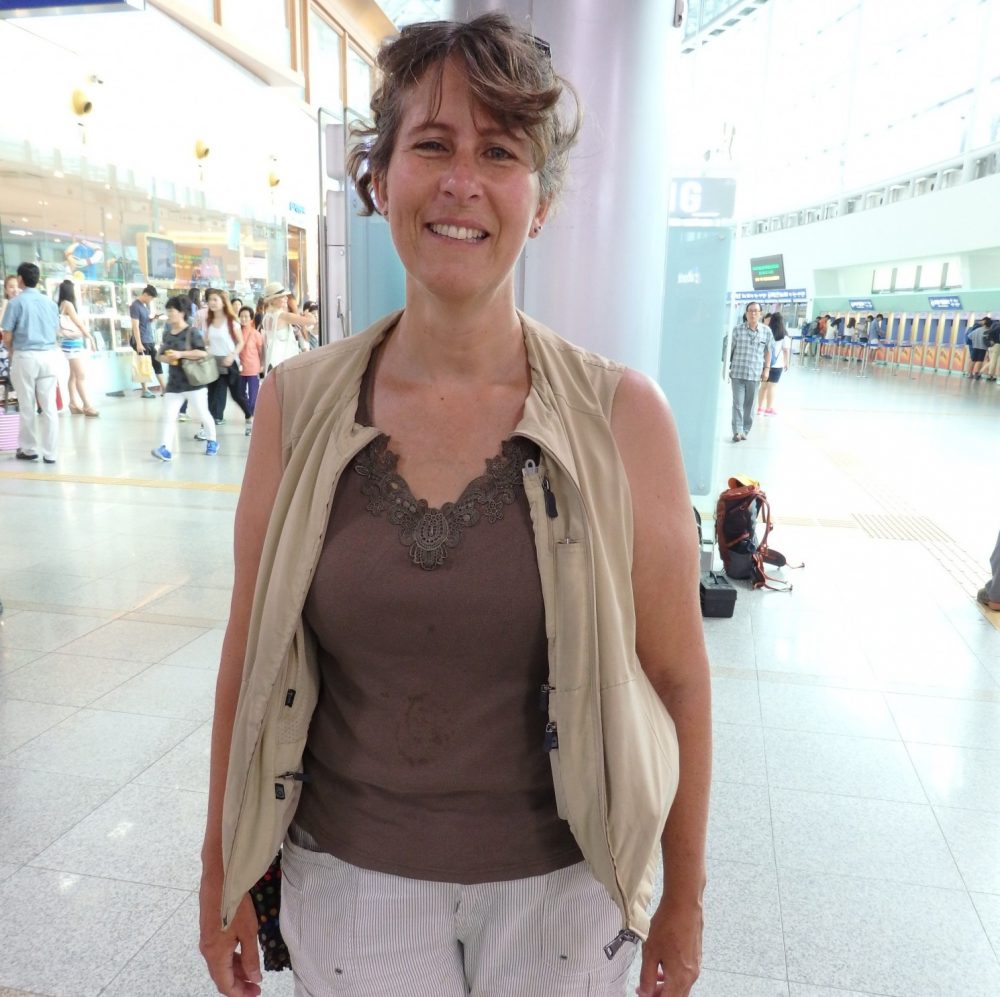 SCOTTeVEST promotes itself with the slogan "Our pockets … your freedom." The pockets are mostly on the inside, zippered and secure, which makes it very hard to pickpocket. In theory, at least, it also doesn't draw as much attention to your status as a tourist as bulging pockets on the outside would. I was told more than once, however, how "American" I looked in it!
I chose a vest-style rather than a jacket because at that point I was planning a trip to Israel and Jordan in the summer, when it can top 40 degrees most days. I've since also used it on my solo trips to the Caribbean, Hong Kong, Singapore, Japan and South Korea, also during hot weather.
Also worth reading: ExpressVPN review, by a digital immigrant
SCOTTeVEST review: Good points
When SCOTTeVEST boasts of pockets, they're not kidding! This travel vest has a lot; I'm not actually sure how many. I carried, on a daily basis, the following:
My passport
My wallet, with just the necessary cards
My phone
Two pens
My sunglasses
My camera
A spare camera battery
A spare SD card
A small notebook
A portable modem
A small box of medicines
Assorted plasters
Cash
My business cards
Assorted leaflets and flyers
depending where I was staying: keys
Despite all these things in the pockets, it wasn't very obvious from looking at it. The most visible bulges were in the two outside pockets, where all I carried was my pocket camera. Everything else rode on the inside, mostly invisibly. Presumably this makes you less of a target for pickpockets, and, even if they tried, they wouldn't be able to access the pockets, since they all close well.
I didn't realize how safe from pickpockets (the kind who use a knife to cut bags or clothing) this travel vest was until I was in Hong Kong and decided to get the collar sewn down (more on that below). The tailor broke three needles trying to do it, and gave up. He said even heavy-duty needles wouldn't go through this material.
In any case, it was a delight to be able to wear all of these things on me and a) not have to worry about pickpockets and b) have my hands free!
SCOTTeVEST review: Bad points
However, I experienced some considerable negative aspects of this travel vest.
1. The heat
It was hot! It might have been "just" a vest, but the material is some sort of polyester, I think, and does not breathe at all. In 40 degree heat, I sweated in it, even though I never zipped it closed.
2. The neckline
The neckline didn't work for me. It has a small collar that stands up. The idea is that you can feed your headphone wires into the collar so that they'll stay put and the earbuds will hang on either side, ready to use easily and quickly.
I don't use earphones and I can't imagine blocking out the soundtrack of whatever place I'm visiting! When I travel, I want to hear, as well as see and smell, the places I visit.
The collar, then, was in the way. It made my neck sweat, and I ended up tucking it under to get it out of the way. You can see how messy that looks in the picture above. I never expected the vest to look beautiful, but this spoiled the cut of the vest even more.
3. The weight
The weight was a problem. Obviously, I knew I was shifting all the weight that was usually in my handbag to my body. I didn't mind that. It's just that all of the weight was on the front, so the vest pulled down in front, which meant pulling down on the back of my neck.
There is one pocket on the back of the vest, supposedly for a tablet. I don't think it would have fit my tablet, a Surface, but in any case I couldn't use it because I couldn't reach it. I did use it a few times in Israel and Jordan for things like maps and leaflets, but I was dependent on members of my family to put things in or take things out. Otherwise I had to take off the vest to access that pocket, which would defeat the purpose of its pickpocket safety. I could just imagine taking it off on the street somewhere and having some passing thief grab the whole vest out of my hands.
It seems a missed chance. SCOTTeVEST could have pockets on the side seams, pointing backwards toward the small of the back. That would be a useful spot, and would allow some of the weight to shift back to offset all the weight on the front. I could tuck heavier things into them that I wouldn't often need to take out, like a power bank or portable modem.
And since the pocket on the back is so useless, it would have been far more comfortable to use some breathable fabric or netting on the back panel to bring the temperature down.
I bought a size large, by the way, which fit me when the vest was empty. When I filled it with my things, I could not zip it up anymore. This didn't really matter, since it was too hot to wear it zipped up.
4. The glasses cleaner
The vest comes with a chamois cloth for cleaning glasses, attached by a string into the glasses pocket. I loved having that available, both for glasses and for my camera lens. However, it is attached in such a way that every single time, without fail, that I tried to pull glasses out of that pocket, the string got tangled up in the glasses. A little thing, but it got annoying.
5. The bottle carrier
Inside one of the outer pockets is a wide elastic strap for holding a bottle. I could not find any standard size bottle that would fit into that strap. Once I managed, by taking off the vest, to wrestle a bottle into it, stretching the strap to its limit, but, since the strap is inside the pocket, the bottle deformed the whole vest to such an extent that it bulged very oddly and made it sit uncomfortably on me.
You might also like my review of my Eagle Creek rolling backpack that I used on my solo trips.
Other choices
SCOTTeVEST sells lots of other models, with various numbers of pockets. Many of these are jackets rather than vests, so they'd work in cooler weather. If you're using the jacket for pickpocket prevention, however, as I was, what do you do when you're inside? You have all of your belongings tucked away in hidden pockets of your jacket, but you want, say, to spend a few hours in a museum, or go to a restaurant. Do you keep the jacket on, or carry it in your hand? In that case, it's no safer than your handbag would have been.
A solution to this problem would be to wear a regular jacket in cooler weather on top of the vest. It would probably mean needing a bigger jacket so it would fit and close over the vest. But it would allow you to take off the jacket inside and keep the vest on.
If you look at SCOTTeVEST's website, it becomes clear that their products aren't really intended for long-term travel. They gear their products more toward shorter-term trips, particularly hunting or fishing. Some are just meant to be everyday clothing. These products seem more suited to these uses. Certainly, if you're going to be out all day hiking or whatever in, for example, autumn weather like now, one of their jackets would be perfect for comfortable, hands-free walking.
Baubax has a similar product. I have not tried it yet, but hopefully it avoids some of the pitfalls I list above, and perhaps their materials are more breathable. I hope so, because I doubt I'll use my SCOTTeVEST much again.
It's too bad, really, because I loved having my hands free, and I loved knowing my things were right there and no one could steal them.
If, despite this rather mixed review, you are considering buying a SCOTTeVEST, you can use this affiliate link to order.
Disclosure: I bought this vest at full price and this review is my honest assessment.
(Article updated January 2, 2020)