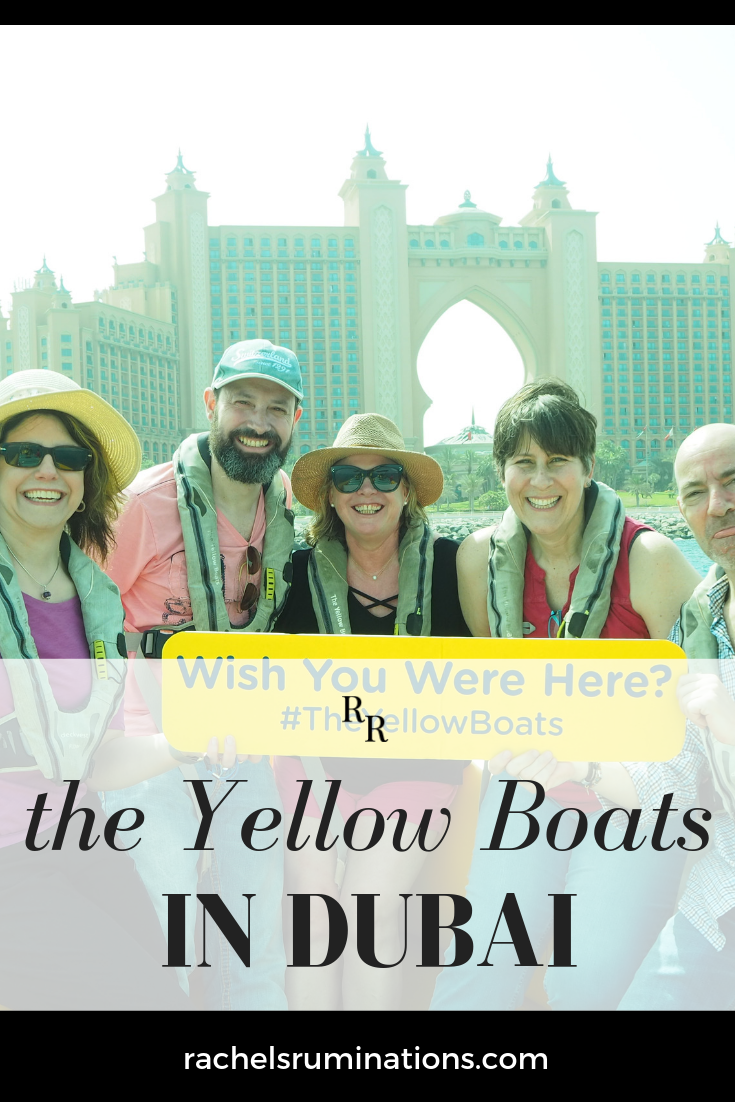 For a moment or two, as the boat sped up, I wondered if this had been a bad idea. The rigid, yellow, inflatable hull plowed through the water, throwing up spray on either side. The slightest wave and the bow would rise up alarmingly, only to fall again with a spine-jolting bang.
(Disclosure: I paid for this tour myself, and all opinions are my own. However, some of the links below are affiliate links, meaning that if you buy tickets through them, I will receive a small commission. This will not affect your price.)
Yellow Boats
Booking a Yellow Boat for myself and a few friends had seemed like a good idea. The Yellow Boats leave from a dock in the Dubai Marina and promise views from the sea of the Dubai skyline, the Palm Jumeirah, and other landmarks of Dubai. I had booked the longest tour of 90 minutes so that we would go as far as Dubai's most famous building, the sail-shaped Burj Al-Arab.
I wore a life vest, and reminded myself that, even if I fell out, I'd be fine. It was warm out, and we weren't far from shore. The seat was well-cushioned, thank goodness, and I clutched the back of the seat in front of me tightly.
Relaxing into the ride, my initial worries turned to pure enjoyment. We flew along, and at times it seemed that the boat left the water entirely, the landings seemed so hard. It was warm out, but the wind cooled us, and we laughed and, occasionally, let out a yell.
---
You might also enjoy:
---
Our Yellow Boats Dubai tour guide
Our guide/ship's captain/photographer, Nuwan, started the ride slowly. Inside the Dubai Marina, a speed limit kept us at a sedate pace, allowing him to point out landmarks and tell the history of the area. As an entirely new development, much of the Marina's architecture is attractive and unusual, and Nuwan dotted his commentary with superlatives: tallest, biggest, longest, first. To be honest, Dubai in general seems to revel in superlatives.
When we reached the ocean, though, Nuwan floored it, or at least it felt like he did. Zooming along from sight to sight, he would cut the motor to stop the boat when he wanted to say something, or when we signaled him that we wanted him to stop. He knew all the best picture-taking spots, and good-naturedly took pictures of us as well, sometimes turning the boat again to get the background right.
If you haven't booked your hotel yet for your trip to Dubai, click on this link to go to Booking.com.
Recommendations for your boat trip in Dubai
A Yellow Boat ride is great fun, if you like a thrill and if you don't get nauseous too easily. The up and down motion is most extreme in the front seats, so don't take those if you're concerned. A different company offers a boat tour in Dubai aboard a "luxury yacht" in the same price range; if you're worried about the speed of the boat, you could try that. I haven't yet, so I can't say if it's any good.
Only bring children who are old enough to hold on tight. I assume that the driver would be careful if there were children on board, but I can't imagine trying to keep a small child safe when the boat is at top speed.
The skyline of Dubai was the highlight for me as far as sights go. While Nuwan's patter about the hotels we saw was interesting, I hadn't really felt any need to get the perfect photo of any of them, so they were just a bonus for me.
Don't expect to see Palm Island either, the artificial island group shaped like a palm tree. Or rather, you will see it, but you'd never know if you weren't told. The 90-minute tour circles around it, but it really just looks like more shoreline filled with new buildings (and a Ferris wheel that Nuwan claimed will be the biggest in the world when it's finished. It sure didn't look to us like it was bigger than London's!).
Nuwan did give us a tip though: take the elevator in the Dubai Marriott Harbor Hotel in the Marina to the bar on the top floor, where you'll be up high enough to get a good view of The Palm. It was closed when we tried, so I have no photos to show whether this is true or not.
Visitor Information: The Yellow Boats Dubai boat ride
Tours are available in 60-minute, 75-minute and 90-minute versions, and the boats come in two sizes: 11-passenger, like the one we took, and 14-passenger. In our case, we had seven on our boat besides the driver: our group and a young couple. You can also book a whole boat for a group.
Regularly-scheduled 90-minute tours go out 10 times a day, starting at 9:00. The 75-minute tours leave six times a day, starting at 9:00. The 60-minute tours stay closer to the city and the sunset. They leave at 18:00, 19:00 and 20:00.
Tours start from Dubai Marina Walk, opposite Spinneys Supermarket and beside Reem Al Bawadi Restaurant, which you can see behind the boats in the first picture in this post.
---
Do you like a speedboat ride like this, or would you prefer a more sedate experience? Add a comment below! And please share this article on social media; the pictures below are perfectly pinnable!
---
I am a co-host of Travel Photo Thursday. If you have a travel blog and want to join in, do the following:
Add your blog to the linkup, using the link below.
Put a link back to this page onto your blog post.
Visit at least a few of the other blogs in the linkup, comment on them, share them and enjoy them!
If you don't have a travel blog yourself, you can still click on any of the blogs below and visit them!