This is the last day of Nathalie Sisson's 10 Day Freedom Plan Blog Challenge. Today's task has a number of parts, so I'm going to break it up and answer each part separately.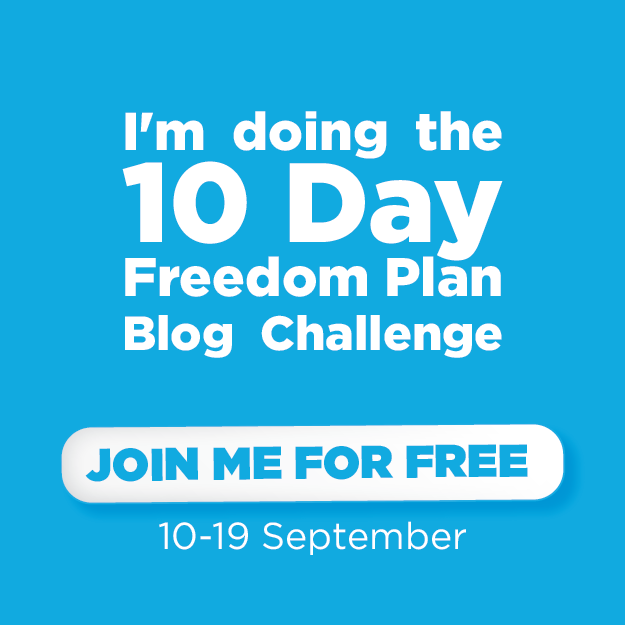 I want you to think back to the journey you've been on in the last 10 days. I encourage you to read through all your posts to celebrate all that you've written, learned and experienced as part of this daily blog challenge. And in today's blog post, I want you to write about:
What you enjoyed most about your experience of taking part in the blog challenge
I've done blog challenges twice before, but those were just about forcing myself to write something—anything—every single day. When I was traveling and had that clear head I get when I travel, I enjoyed daily writing, and the creativity that I had to develop to come up with a topic every day.
This challenge, on the other hand, was shorter, but more difficult. Since it's a busy time of the year for me at work, I only had time to write most of the posts in the evenings, when I was tired and not at my sharpest. However, I enjoyed making that commitment and the sense of accomplishment I got when I produced each post.
I also felt an initial reluctance: my automatic distaste for anything "touchy-feely" or "spiritual." Basically, I'm a science geek without being good at science. Once it became clear that this challenge might be more useful than just "getting in touch with my feelings,"  I realized it could indeed help me to clarify my goals.
Your favorite challenge day and why
I have two favorite days.
I loved the "my perfect day" assignment. It allowed me to dream, but it's a realistic dream I could actually work toward. That, somehow, made it an even more enjoyable daydream than the usual, where you know it's never going to happen.
I loved the "my superpowers" assignment. It was so gratifying to hear what my friends, colleague and husband think I'm good at. And a complete surprise to me.
The biggest takeaway you've had from it
I think hearing about my superpowers was the biggest takeaway. Something my husband said—that I'm good at arranging travel—has me thinking that perhaps there's some way I can turn that into one of the various income streams I'm going to have to develop in the next six or seven years. If I'm "unflappable" and good at travel planning, maybe I can become an on-line travel planner or concierge of some sort.
The next step you're going to take to make your freedom plan a reality
I've had a lot of ideas for projects:
develop an on-line shop related to my blog
cultivate more affiliate links
be more consistent on social media to build my blog's audience
create a podcast of my blog posts
send out queries more consistently for copy-writing assignments
finish revising my manuscript and start sending out queries
investigate the possibilities of becoming an on-line, bespoke travel planner
Except for the last one, I had all of these "plans" before starting the blog challenge. Yet not much has come of any of them, or rather I work on them inconsistently.
Some combination of all of them would enable me to build up my location independence, so that later, when my husband retires and we're not bound so much to one spot in the world, we'll have the freedom to make other choices.
At the same time, I don't want to give up on the commitment I made to myself to post consistently (twice a week) on my blog.
So how will I carry out my freedom plan? I like this idea of taking "imperfect actions." If I could get myself to just do a little of a project each day—just 15-20 minutes per day—and accept that what I've done isn't perfect, I'd end up getting a lot done.
So imperfect action is the next step I'll take. Or, rather, it's the next many steps I'll take.
And now we return to our regularly scheduled programming…
This blog post is in response to Natalie's 10 Day Freedom Plan Blog Challenge Day 10.